Images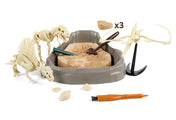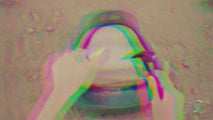 Mesozoic Super Dinosaur Fossil Dig Kit
Incl. VAT, plus shipping costs if applicable - minimum order value: 10,00€
Description

With the Mesozoic Super Dinosaur Fossil Dig Kit, children become little palaeontologists. This engaging kit transforms kids into archaeologists as they meticulously excavate dinosaur bones from a rock using a hammer, chisel, and brush. Piece by piece, they uncover the ancient secrets preserved within the fossils. With the assistance of the included manual, they then assemble the individual bone finds into a Tyrannosaurus Rex, Spinosaurus, or Pterodactyl skeleton.

WARNING
CHOKING HAZARD - Small parts not for children under 3 years or any individuals who have a tendency to place inedible objects in their mouths.
Whether a Tyrannosaurus Rex, Spinosaurus or Pterodactyl - with the fossil dig set, the children's room is easily transformed into a museum, where children present their findings on a pedestal accompanied by an exhibition card.
Dimensions
Length: 40.0 cm (15.75 in)
Width: 22.5 cm (8.86 in)
Height: 14.6 cm (5.75 in)
1 excavation stone
1 base
1x hidden Tyrannosaurus Rex skeleton
1 Pterodactyl skeleton
1 Spinosaurus
3 fossils
1 spray bottle
1 hammer
1 chisel
1 brush
1 manual
3 pedestals
3 exhibition cards